Dear Parents,

If you are visiting this page, it means your child is considering SMU for his/her university education, and you are actively supporting him/her in the search process. At SMU, we recognise that parents play an important role in their children's educational journey. As you and your child explore the many university options together, we hope you will find the information that we have specially prepared for you helpful and insightful.
ALL PARENTS WANT THE BEST FOR THEIR CHILDREN
Mr and Mrs Goh spoke of the strengths of the SMU education that had transformed their four children.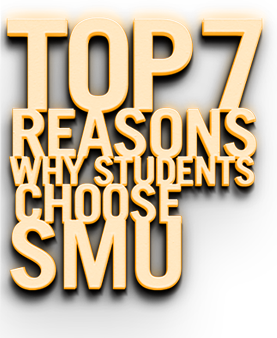 1 Unrivalled Interactive Pedagogy
It is all about speaking up and sharing one's thoughts through active participation in the classroom. Your child will become bold, confident and articulate, ready to face the world.
2 GLOBAL EXPOSURE
Your child gets equal opportunities to gain global exposure. Whether through a 6-month international exchange with partner universities, an overseas internship or a global community service project, your child will gain new perspectives, enlarge his/her network of friends and get a chance to give back to society.
3 Internships
Working while studying allows your child to gain invaluable insights into future career choices and secure job offers before graduation.
4 Strong Employment Outcomes
Giving your child a career head start is SMU's top priority. To prepare him/her for the working world, we have in place initiatives such as career skills programmes, a job search portal, recruitment/networking sessions with prospective employers and career counselling. Gain an immediate advantage when he/she enters the job market.
5 INNOVATIVE CURRICULUM
An industry-relevant SMU curriculum gives your child a total skill set that consists of the hard knowledge skills, soft people skills and the 'heart' skills. This way, he/he becomes a well-rounded, socially and ethically responsible individual, making a difference in work and society.
6 DOUBLE DEGREES & SECOND MAJORS
Allow your child to increase his/her versatility with our highly popular choices of 15 double degree combinations or 41 second majors.
7 TEACHING EXCELLENCE
Our highly qualified professors are always looking for ways to innovate and improve teaching so that your child is trained to be effective thinkers and learners.

Testimonials
Hear what employers, parents and our graduates have to say about our transformative education.
Top Employers look for well-rounded graduates who can manage real-world challenges. They know where to find them.
Singapore Management University pioneered a holistic and interactive form of education in Singapore. Our cross-disciplinary, broad-based curriculum, with a strong focus on ethics and social responsibility, will transform you into a versatile and well-rounded graduate. Global exposure through overseas student exchange programmes, study missions, internships and community service takes you out of your comfort zone and equips you with a deep understanding of intercultural business and communication. A strong graduate employment record* affirms our renowned approach and shows that our students are highly regarded by employers across diverse fields. Let SMU give you a head start to your career, so you too can become a success. Welcome to SMU. Discover a different U. *Graduate Employment Survey (GES) 2012

CONSECUTIVE YEARS OF STELLAR Graduate Employment Record
92% secured jobs within 6 months after graduation




Multiple Job Offers
55% received 2 to 6 job offers

MULTIPLE INTERNSHIP OPPORTUNITIES
10,000 companies employ SMU interns. 86% clinch job offers from before graduation to within two months of graduation.

CAREER HEAD START
SMU pioneered the internship programme and 'The Finishing Touch' programme that prepare students for the working world, giving them a competitive edge over others.

STRONG FOCUS ON ETHICS AND SOCIAL RESPONSIBILITY
80 hours of compulsory community service transform students into socially responsible citizens with character and empathy
A PROGRAMME FOR EVERYONE