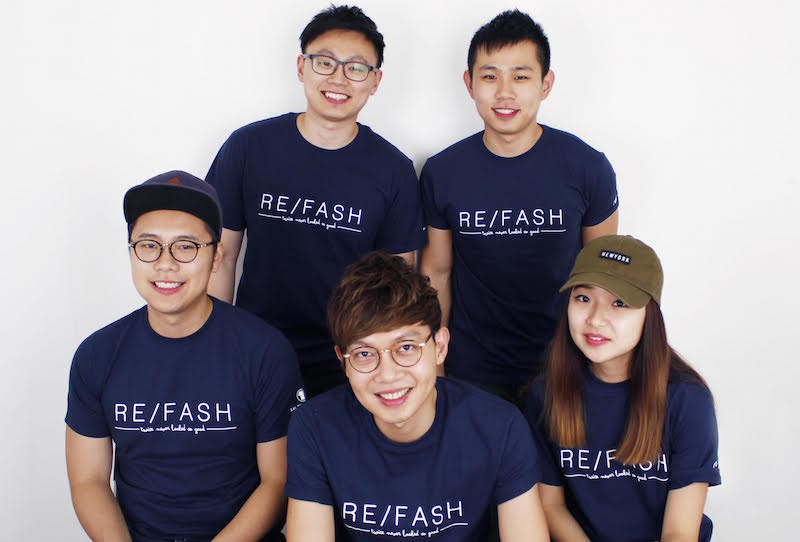 Just after blogshops became a thing and folks were flogging their off-season wares on apps like Carousell, SMU  alumnus Aloysius Sng bucked the digital retail trend and started his fashion business in a physical store in City Plaza, in 2015. It might seem like a risky play, committing to a lease and running a brick-and-mortar outlet when everyone else was jumping on the online retail bandwagon. But a boutique was just part of a bigger retail strategy for this young peddler of second-hand clothes.
"Having a physical store allows us to interact and meet our sellers and shoppers, and have them experience our brand and products in the flesh – this is what  embodies, re-inventing means for people to buy and sell second-hand fashion," says Aloysius, who has three other partners.
"We want to re-create a new shopping environment; an environment for thrift shopping. It's also part of the strategy to have an omni-channel model as the physical stores act as a drop-off point for sellers to pass us their items. The online platform allows our users to buy and sell anytime, 24/7."
Launched simultaneously with the stores, the Refash online platform lists more items so shoppers can browse thousands of quality items and filter according to their preferences.  While Refash might sound like the ultimate omni-channel retail success story, Aloysius shares that the process of finding the sweet spot between physical and virtual fashion commerce isn't quite a catwalk in the park.
"It seems very easy – simply set up a website, upload some pictures and text, and you're set," says Aloysius.
"Budding entrepreneurs must realise that starting a business may be easy, but maintaining a business is where the going gets tough. They have to be prepared for it and have the aptitude to take the business further."
With a plethora of e-retailers jostling for visibility and the consumer dollar, online retail ventures are riskier than ever before. Even massive fashion empires like US retailer NastyGal couldn't find the perfect model to scale and sustain an otherwise wildly successful brand.
"NastyGal's downfall is ironically due to their excessive funding, and the way they managed it," reflects Aloysius.
"It does not only apply to online businesses, but every business should prioritise fund allocation and spend their money wisely. After all, it's money mainly from investors and every cent should go towards the good of the business, community, environment, customers, and stakeholders."
Thankfully for Aloysius, he had the opportunity to develop the relevant skill set for building and sustaining a viable retail business, both online and off. He spent nine years in the fast fashion industry before starting this "brokerage" for used clothes, and also picked up real-world skills during his academic career.
"I like that SMU is not all about books and tests but the school is very pro-entrepreneurship, and focuses on giving students a holistic and well-rounded education to prepare us for the working world," reveals the retailer.
"I regard the presentations I gave in class previously as invaluable practice sessions in helping me to make public pitches today to real time investors and venture capitalists."
[All images courtesy of Refash]
This article was originally published on The SMU Blog.