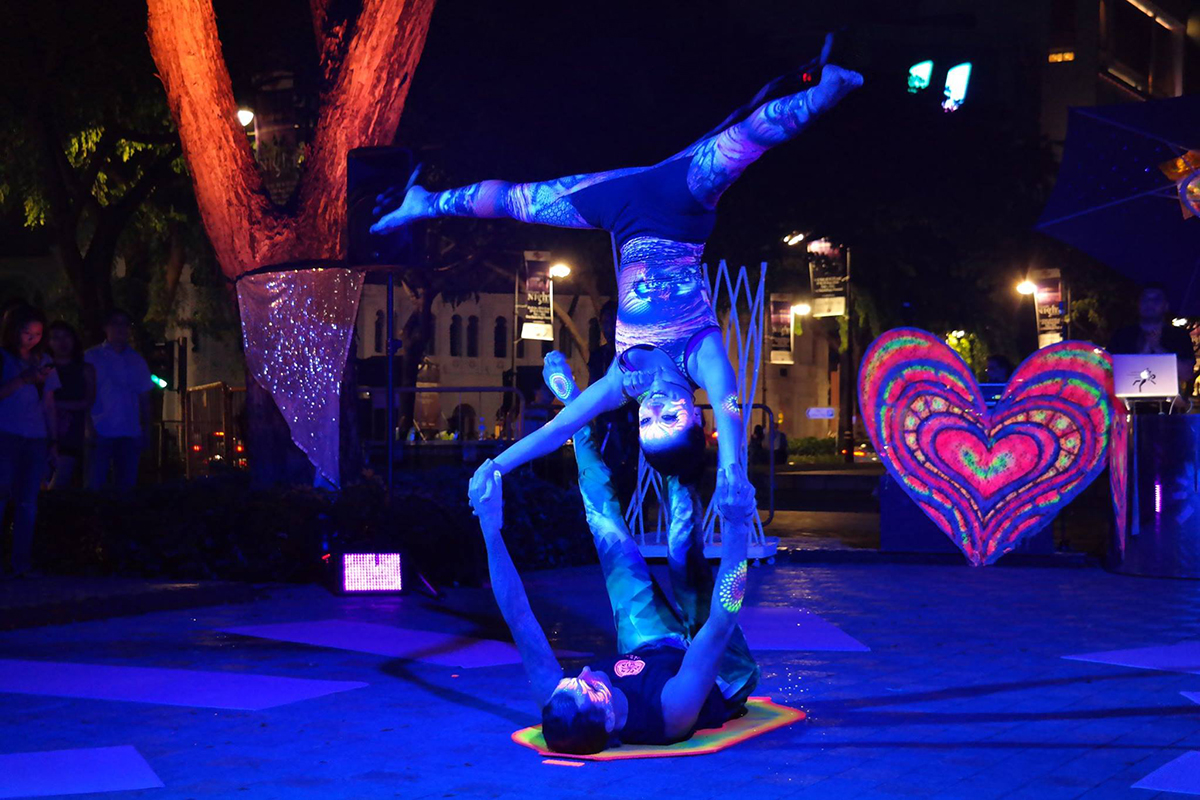 The key reason for pursuing a tertiary education usually revolves around landing a lucrative job. But a well-rounded college experience should also provide exposure well beyond the classroom and boardroom, and help build one's confidence to take the road less travelled.
Sophia Guan, an SMU  with a double major in Marketing and Psychology, has certainly embraced all her passions throughout life. An experienced marketer, Sophia is also a member of , a Flow Arts collective that performs a mix of acrobatic feats and heart-stopping fire dances at various events, including previous editions of the annual .
"I studied art for my GCSEs (O-Level equivalent) and have enjoyed crafting since I was young," explains Sophia.
"From dancing to singing, I was always participating in talent shows and getting involved in music performances in school. In fact, I still remember my very first encounter with (the Maori performance)  in Primary 2, when we learnt about the Maoris and their tradition. We learnt about the cultural significance of poi, made our own set of poi, then did a performance during assembly!"
While climbing the corporate ladder as a communications and marketing specialist, Sophia also found the energy and time to grow her love for the performing arts. She also discovered her soft spot for acroyoga – which merges the healing art of Thai massage with the ancient wisdom of yoga and dynamic partner acrobatic postures – after attending a workshop on the practice in 2012.
"Back then, acroyoga was a relatively new practice, and there were no teachers based in Singapore; thus, the only real opportunities we had to learn were from travelling teachers who came through every few months," recalls Sophia. Instead, she honed her skills by watching YouTube videos and building a community of fellow enthusiasts who organised weekly jam sessions.
"As more acroyoga images popped up on Instagram, a growing interest in the practice began to emerge, and we saw more people coming for the jams," adds Sophia.
"As there is an element of danger in the practice – given that people are essentially moving through poses while being carried by another person – there was a need to ensure everyone was safe. This responsibility towards the community is essentially how I started teaching acroyoga."
With her partner being a founding member of Starlight Alchemy, which also provides special effects for events and hosts weekly workshops, Sophia and her acroyoga group were invited to inject a fresh new element into the performances. She started to include more props into her sequences such as poi, torches, hoops and fans. To date, she has performed at numerous local venues like the Esplanade, and even ventured abroad to events like the annual US desert festival in Nevada — .
This intense passion for the arts was, in part, kindled by a student exchange programme to Budapest, Hungary, when she was at SMU, where she attended a university housed in a historical, former Customs House building.
"The city has a rich history, beautiful architecture, and is currently developing rapidly," says Sophia.
"The Erasmus (European Union student exchange programme) for the university is large, so you get to meet and make friends with lots of other students from all around the world. It was interesting to experience how other university curriculums were structured and to get the chance to work together with people from different cultures and understand their ways of thinking and working."
Following her graduation, Sophia took on positions in copywriting, communications and marketing, and went on to be part of the team leading the .
"Being a part of 's opening team is definitely one of the highlights of my career so far," reveals Sophia.
"The rare opportunity to see the building during its construction stages through to when it started pulsing with life as our first visitors walked through the door was, by far, one of the most satisfying and fulfilling moments I've ever worked towards."
While the journey to opening this cultural institution wasn't quite "a walk in the park", Sophia explains that her unique course of study at SMU prepared her for numerous challenging situations in her career.
"Most people are surprised when I tell them my majors were in marketing and psychology as it wasn't a very popular combination," says Sophia.
"They usually opted for marketing and communications, or marketing and finance. However, these two disciplines are extremely complimentary and made me a better marketer by allowing me to better understand how and why people behave the way they do, and thus be able to plan marketing strategies around human behaviour."
Having been able to juggle both an exhilarating career with a lifelong commitment to the arts, Sophia firmly believes that it's possible to have the best of both worlds — even if your passion doesn't result in financial rewards from the get-go.
"Keep pursuing your passions while working on creating a stable income and savings," says Sophia.
"You might not get to be as involved in your passions as you want to at first, but keep up at it, and one day when an opportunity comes knocking at your door, all you need to do is be ready to say 'yes'!"
Catch Starlight Alchemy's installation The Flower of Life and the Infinite Self at the Singapore Night Festival, located on the upper deck of Stamford Green, next to the SMU School of Law building.
Don't miss performances by our SMU student groups – ,  and  – this Singapore Night Festival as well! ­ 
[Feature photo: Zentai Art Festival 2014. Sourced from Bras Basah.Bugis Facebook]
This article was originally published on The SMU Blog.