Students With International Qualifications
Student Life at SMU
An enriching university life is so more than just academics - it is a constant odyssey of discovery and perpetual learning. As a student in SMU, you will chart the destiny of your own learning from the moment you step into SMU. Your journey will be a self-directed one which you can explore your passions, dreams and goals through the many academic and student life activities on campus. With over 160 co-curricular activities (CCAs), student leadership groups and special student committees to choose from and many more to be founded, your life at SMU will be a well-rounded, exciting and unforgettable experience!
SMU International Connections (ICON)
ICON is the go-to club for all international students in SMU. Your SMU seniors will show you around campus and Singapore, answering any queries you may have about life in Singapore and at SMU.
Student Clubs
Indulge in the arts, sports and adventure, special interests and community service. SMU has everything you need, and if you cannot find anything that suits your interest, be empowered to start your own student club groups!
The Arts & Cultural Fraternity (ACF)
If you enjoy performing on stage or are very much into the arts, you will be dazzled by our many arts and performing clubs under the Arts & Cultural Fraternity (ACF). Our students perform regularly at university events, showcasing their talents in local and overseas competitions.
The SMU Sports Union (SSU) and SMU Xtremists (SMUX)
If you are an active soul who loves sports, your adrenaline will be rushing with recreational and competitive sports clubs are under the SMU Sports Union (SSU), Or fuel your appetite for adventure with the SMU Xtremists (SMUX) which oversees seven extreme sports clubs! Students organise adventure trips and participate in competitions such as the Institute-Varsity-Polytechnic (IVP) Games, National Championships, regional and international games.
Click here for SSU Click here for SMUX
The Special Interest and Community Service Sodality (SICS)
If you enjoy all kinds of idiosyncratic interests, you can immerse in a wide range of 25 clubs in lifestyle, personal development, social gaming, social causes and community service under our Special Interest and Community Service Sodality (SICS).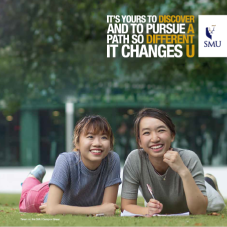 Undergraduate Prospectus 2018/2019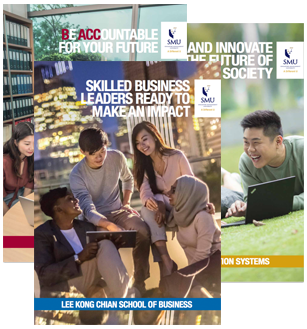 Undergraduate Programme Brochure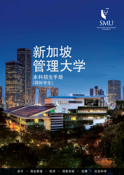 International Students Brochure