Students With International Qualifications
University-wide Events
There is always something fabulous and exciting to look forward to at SMU! Here is a sneak peek at some events that you can expect on campus. There is always room for many more.
January
SMU Patron's Day
The New Year kicks off with one of our largest and most vibrant campus events to commemorate the founding of SMU. Each year, this event is graced by Singapore's President, and the University is filled with student-run booths showcasing aspects of SMU's student life activities. Singers, dancers and comedy acts occupy the main stage all day long. You definitely will not want to miss this event, especially when food and drinks are on the house! 
Career Day
A one-stop resource fair organised by the Dato' Kho Hui Meng Career Centre (DKHMCC) for students to pick up useful tips, such as basic hair and makeup techniques, and how to look sharp for a job interview because the first impression counts! You will also get free professional headshots that will come in handy for your CVs and LinkedIn profiles. 
February
Internship and Career Fair
A biannual fair organised by DKHMCC features myriad job opportunities from multinational companies, small and medium enterprises and the public sector. This is the perfect platform for you to network and interact with prospective employers.
Waikiki
The beach party held at the world-famous island off Singapore, Sentosa, is an event not to be missed. Organised by the SMU Sports Union, Waikiki doubles up as a competitive sports event and is a great way to unwind on the beach. Nothing beats spending a day with your friends by the sea.
March
Open House
Catered especially for prospective students seeking undergraduate degree programmes. We throw open our doors to welcome everyone to our campus in the first week of March! Prospective students and parents can truly immerse themselves to experience life as an SMU student via campus tours, course curriculum talks, and interactions with students, alumni and professors.
May – June
After an intense school term, the much-welcomed summer break is probably one of the most fun-filled part of university life! You could go for overseas community service projects (OCSP), business and cultural study trips (BCST), exchange and summer programmes as well as internships. Planning for freshmen camps starts from May. You could spend your holiday on campus brainstorming and recruiting volunteers to partake in welcoming freshmen on campus!
July
Freshmen orientation camp
Welcome to the largest school-wide camp! It marks the start of the Freshmen Experience where you meet your peers, mingle with senior camp facilitators and have fun! There are also camps organised by the six schools and student constituent bodies. Attend as many camps as you like because you will most likely meet your best friends and lifelong mates in university.
International Connections Camp
A highly recommended camp for all international students. This is probably the best opportunity for you to discover Singapore, guided by your seniors, and meet new friends from around the world.
Commencement
A bittersweet day for all students and their families. Seniors who have completed their undergraduate or postgraduate studies gather at this ceremony to mark the commencement of a new chapter in life. What will your SMU journey be?
August
Convocation
Convocation marks the start of your meaningful and memorable journey at SMU. Be dazzled by spectacular performances put up by your seniors as they welcome you warmly into the SMU family with pomp and celebration. It will be an unforgettable evening for you and your family.
Vivace
A lively celebration of what SMU student life has to offer. You will get to interact with student representatives from all student clubs and societies. Discover what they have to offer and decide which you would join. This is the best time to gather like-minded friends for a great time at SMU.
September
Sports Fiesta
The largest sports carnival organised by the SMU Sports Union where you can take part in a range of sports activities with your friends and compete for awesome prizes, Alternatively, you can just participate for fun!
SMU Challenge
The annual fundraising event where the entire SMU family – students, alumni, faculty members and staff – do their bit for the community.
SMU Arts Festival
A celebration of creativity and artistic flair, students from over 20 SMU Arts Clubs stage events for two weeks. You can immerse and participate in workshops and enjoy performances on campus.
November
Starry Nite
A mind-blowing night that focuses on awesome acoustic local bands is held on the last Friday of each semester (April and November). The bi-annual rock concert organised by SMU SoundFoundry has a fantastic line-up of student bands performing covers and original songs.
December
This is the period where you get busy with student leadership elections. Leadership transition occurs if you are elected into an Executive Committee of a CCA.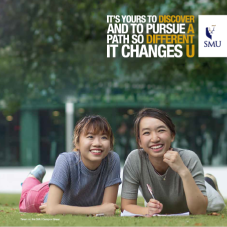 Undergraduate Prospectus 2018/2019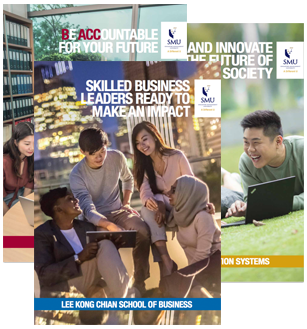 Undergraduate Programme Brochure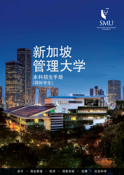 International Students Brochure