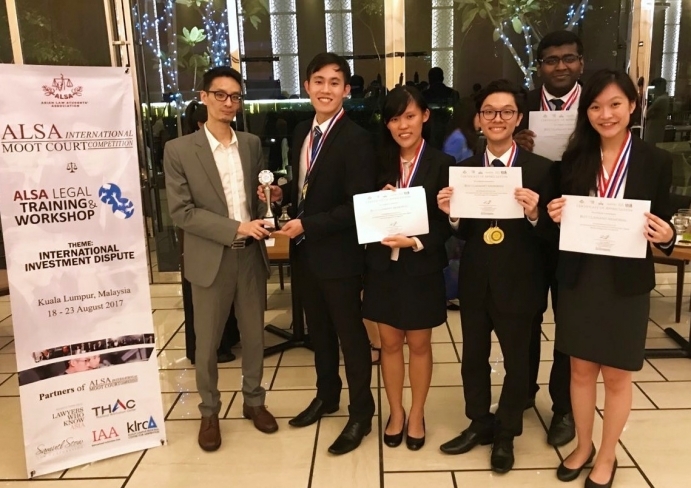 SMU's international mooters have marked the end of the AY2016-2017 moot season with nothing less than a gold!
Final year law undergraduates Jolyn Khoo, Darren Ng Zheng Qiang, R Saravanan, Claudia Tan and Jonathan Tan Wei Xiang were crowned champions of the 2017 Asian Law Students' Association (ALSA) International Moot Court Competition on 20 August 2017, after five gruelling rounds of competition.
About 30 teams participated in the moot competition this year, which was based on investment arbitration.  The best teams qualified for the international rounds held in Kuala Lumpur between 18 and 20 August.  In addition to the championship title, the SMU team, which was coached by SMU School of Law alumni Sean Sim and Daniel Ho, also won the Best Claimant Memorial award.
This is SMU's second win in this competition, and the achievement certainly brings a fitting conclusion to SMU's 2016-17 moot season.  With SMU School of Law winning five international championships in six finals this season, the School has equalled its AY2014-15 world record for the most number of international championships won in a season.
SMU's overall tally in international moot competitions now stands at 21 championships in 41 championship finals.  15 of these finals were of 'grand slam' moots, i.e. those which attract at least a hundred teams.  Notably, since the launch of its International Moots Programme in 2010, SMU has been the only Singapore university to have reached a grand slam moot final (winning seven such finals).
"This is an excellent way to conclude the moot season.  On behalf of the team, I would like to thank our School of Law faculty members and alumni, as well as partners in the law fraternity who have dedicated their time to coach, mentor and/or judge the teams.  We are also grateful to WongPartnership for their support since 2015.  2017 also marks the first year in our new building, and facilities such as the David Marshall Moot Court have been helpful for our preparations," said Assistant Prof Chen, who heads the International Moots Programme at the SMU School of Law.
Well done, SMU mooters!
[Featured Photo: The SMU team comprising Darren, Claudia, Jonathan, Saravanan and Jolyn being presented the championship.]