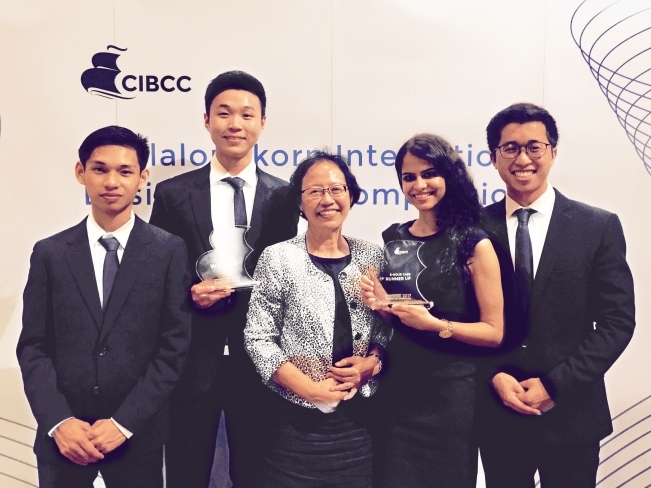 SMU's Team Cognitare – Lee Kong Chian School of Business's business case club – has brought home not one, but two trophies from this year's Chulalongkorn International Business Case Competition (CIBCC).  The team – comprising Bryan Lum Xyuen Hern (2nd year, BBM), Tan Jing Han (2nd year, BSc Econs and BBM), Bryan Yong Ren Wei (1st year, BBM) and Ishika Mehrotra (1st year, BBM) – came up tops in the 24-hour case competition, and also clinched the first runner-up position in the eight-hour case competition.  Both sets of competitions were held concurrently.
Organised by Thailand's Chulalongkorn University, CIBCC is a prestigious case competition renowned in the international business case competition circuit for being one of the toughest.  It aims to showcase the analytical abilities and innovative young minds of business undergraduates from all over the world. 
This year's edition, which featured 16 teams, saw fierce competition from universities hailing from Australia, Canada, China, Hong Kong SAR, New Zealand, Scotland, Singapore, Thailand and USA.  It was also the first time that CIBCC moved away from its tradition and conducted the eight-hour case and the 24-hour case in parallel.
To prepare for the competition, the SMU team had trained intensively as soon as their semester examinations ended in April, studying and analysing the key industry trends in Thailand thoroughly to build up their knowledge and confidence.
It was by no means an easy task but Team Cognitare displayed great tenacity and eventually emerged as the top performer.  In the eight-hour case, the team was tasked to design a three-year strategic plan to help Do Day Dream, a Thai producer and seller of local skincare brand – Snail White, sustain its stellar growth. The 24-hour case, on the other hand, concerned local payment kiosk (Boonterm) provider Forth Smart, which needed a successful and profitable e-wallet strategy (BeWallet), amidst strong competition from larger players in the industry.
Despite the time crunch, Team Cognitare successfully proposed, for both companies, bespoke strategies which won the approval of the distinguished judging panel.  Judges also commended them for their unique presentation style, which emphasised the team's camaraderie.
The success of the team would not have been possible without the support and guidance from the Lee Kong Chian School of Business, faculty members, alumni and seniors of the Club.  More importantly, the outstanding performance of the team once again showcases the excellent quality of SMU undergraduates.
Well done, Team Cognitare!
[Featured photo: (left to right) Bryan Yong Ren Wei, Tan Jing Han, faculty advisor Dr Ma Kheng Min, Ishika Mehrotra and Bryan Lum Xyuen Hern.]