Redeem Your SMU Backpack
Register Now

view
employment
report
Discover
Your Inner
Smoo Smoo
TAKE QUIZ
Kick off a Great Weekend
at Our Open House
Get a glimpse of life as an SMU student! Visit us on campus and experience firsthand why SMU faculty, staff and student are known to be one of the friendliest and warmest communities around. Be sure to try out a range of specially curated activities to get the full SMU Open House experience.
Visiting the SMU Open House is the best way to see why SMU could be the perfect university for you!
Register for Goodies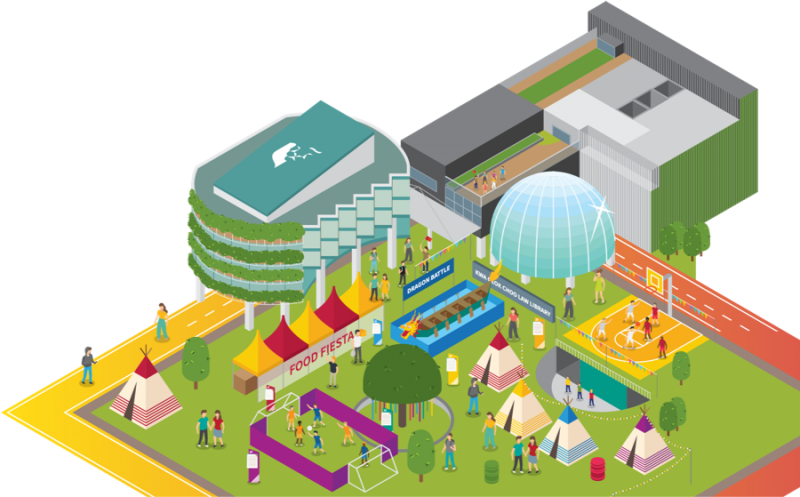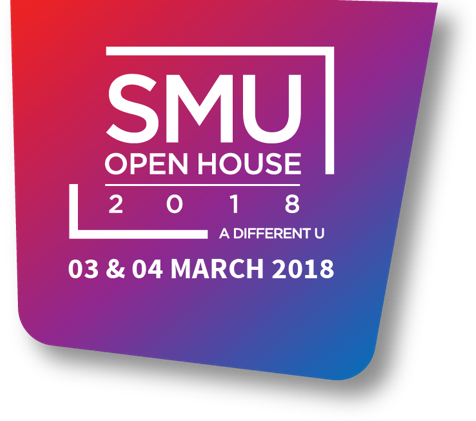 Explore Your Academic Interests
Visit the School Booths
SMU School of Law Building, B1 Function Hall 3
(3 & 4 MARCH 2018)
Chart your own educational journey in SMU with our flexible and interdisciplinary curriculum. Choose from more than 300 combinations of second majors, or our 15 double degree combinations. Join our professors and current students to explore your academic interests.
ATTEND THE TALKS : DELVE INTO OUR MYRIAD ACADEMIC POSSIBILITIES
SMU School of Law Building, B1
(3 & 4 MARCH 2018)
Our comprehensive information sessions provide an overview of our academic programmes, student life, scholarships and financial aid, the application process and more.
Download Open House Flyer
Exploring SMU Campus Green
Join the SMU CITY GAMES
Sports Try-outs and Fitness "Tests"
3 & 4 MARCH 2018, FROM 10AM TILL 5pm
Step up and conquer a variety of fun challenges such as the Gladiator, Zorb Ball and Plank Challenge.
SMU Dragon Battle
3 MARCH 2018, FROM 10AM TILL 5pm
SMU students and corporate teams battle for the title in the epic "SMU Dragon Battle", a dragon boat tug-of-war held in a mobile pool. Bring an extra set of clothes and join in the fun!
Sports Competitions
3 MARCH 2018, FROM 10AM TILL 5pm
Catch some live sporting action as SMU students compete in sports such as Street Soccer, Handball, Captain's Ball and Floorball.
Cross-fit Trail
4 MARCH 2018, FROM 10AM TILL 5pm
Test your physical limits to overcome a series of obstacles in an adventure-fitness challenge through Fort Canning Park.
And more...
SMU SUNSET SPECTACLE
3 MARCH 2018, 6.30PM TILL 9.30PM
Be prepared for a sensory extravaganza as percussion, dance and music performances from SMU take the stage at the Campus Green Amphitheatre. A series of sensational performances, eye-catching light installations and alfresco picnics promises a fun-filled evening for friends and families. Be sure to join us at the Sunset Spectacle to soak up the good vibes!
SMU FOOD FIESTA 3 MARCH 2018, 11AM TILL 9PM
4 MARCH 2018, 11AM TILL 6PM
Attention all foodies - here is your chance to uncover some unique and scrumptious delicacies without burning a hole in your wallet at the SMU FOOD FIESTA. With more than 12 alfresco stalls run by SMU students and alumni, you can feast on scintillating and Instagram-worthy dishes that are bound to satisfy your taste buds.
OPEN-TOP BUS TOURS AND WALKING TOURS
3 & 4 MARCH 2018, EVERY HOUR FROM 1PM TILL 6PM AT THE SCHOOL OF LAW ENTRANCE
Hop upon the open-top bus tour around our sprawling city campus or join an interactive walking tour conducted by SMU Ambassadors.
Engage in Exciting Activities
Too many activities? Too overwhelmed?
Here's a proposed itinerary for the day. Just follow this plan and have fun!

Nearest MRT
Bras Basah MRT (CC2)
City Hall MRT (EW13)
Taxi Stand
Level 1 @ SMU Li Ka Shing Library 70 Stamford Road, Singapore 178901
Nearest Bus Stop
SMU School of Accountancy
7, 14, 16, 36, 36A, 36B, 77, 106, 111, 124, 128, 131, 147, 162, 162M, 166, 167, 171, 174, 175, 190, 700, 700A, 857
SMU Carparks
SMU Lee Kong Chian School of Business
50 Stamford Road, Singapore 178899
SMU Administration Building
81 Victoria Street,
Singapore 188065
Gather your friends and family now.

See you at SMU Open House on 3 and 4 March 2018!