Bachelor of Business Management
Our programme aims to develop well-rounded students who are schooled in a diverse range of subject areas. Apart from achieving mastery in the fundamentals of business management and leadership, you will also get to choose from eight business majors:
---
Corporate Communication
The Corporate Communication major provides you to manage communicative relationships for businesses and organisations operating in competitive environments, e.g. the links to media, public opinion, netizens, the financial community, employees, consumers, etc. These links are typically managed by public affairs, public relations or corporate communication departments together with experts in communication agencies. The Corporate Communication major equips you with communicative skills needed to thrive in any management role, including workplace communication, intercultural communication, and crisis communication techniques.
---
Finance
The Finance major equips you with the skills needed to excel in all areas of finance, in both the private and public sectors. Finance graduates often find employment with banks, investment banking houses, consulting firms, insurance companies and various corporations, both large and small. There are 5 tracks under the Finance Major. These tracks allow you to specialise in Banking, Finance Analytics, International Trading, Real Estate or Wealth Management. Finance graduates often find employment with banks, investment banking houses, consulting firms, insurance companies, Real Estate Investment Trusts (REITs) and various corporations, both large and small.
---
Strategic Management
The Strategic Management major trains you in various strategic management concepts, skills, and competencies, including formulating corporate strategies, developing new businesses, designing corporate structures, and managing businesses and corporations.
---
Marketing
The Marketing major trains you to understand consumers through research, and to use this knowledge to develop competitive and sustainable marketing strategies. Marketing graduates work as brand managers, sales, retail and marketing executives, and consultants in a wide variety of industries, including consumer goods, business goods and services, financial services, advertising, digital media, retailing, technology, and marketing research. There are two tracks under Marketing major. They are marketing Analytics, and Retail and Services Management. 
---
Operations Management
The Operations Management major provides you with the skills needed to drive operational excellence and to manage business operations in a wide range of sectors, including retail, consumer goods, hospitality, health care, supply chains, logistics and manufacturing. There is one track under Operations Management major - the Operations Analytics.
---
Organisational Behaviour & Human Resources
The Organisational Behaviour and Human Resources major equips you in one of two tracks: 1) with human resources management skills in areas such as talent acquisition and management, strategic HR, performance management, compensation & benefits, and HR analytics (HR track), or 2) with general management skills in areas such as leadership, teams, negotiation, organisational change, decision-making, and cross-cultural management (OB track). General management skills help you become an effective team player and leader in any area of specialisation. Our students with an HR focus often find employment in the fields of human resources management and human resources consulting.
---
Quantitative Finance
In the fast-paced world of finance, technological advances and regulatory requirements have driven the banking industry to the point where mathematical and statistical modeling are a necessity. A talented individual with strong quantitative skills is highly sought after by hedge funds and banks. With a  Quantitative Finance (QF) major, you are in a good position to impress interviewers and head-hunters seeking to employ risk analysts, junior quant research strategists, and in time to come, specialist leaders. Our students who major in QF are trained to understand financial models and to perform data analysis on a large scale. This training gives them an edge in the highly competitive global job market. QF major will show you how math can help an investment/trading firm generate revenue while limiting risk. QF prepares you for a career in the financial industry, primarily in the management of risks, trading & hedging of financial products, as well as in the management of investment portfolios and trading opportunities. 
---
Entrepreneurship (NEW)
A newly offered major, the Entrepreneurship major is for undergraduates who want to learn about creating new businesses, either as stand-alone new firms or as part of existing organisations' new business growth plans. Through a slew of targeted electives, entrepreneurship study missions to places such as Silicon Valley and other entrepreneurial locations, and the entrepreneurship practicum, you will become familiar with tools, techniques, theories, and practices that will enable you to identify, refine, incubate and grow your new business ideas.
As an undergraduate, your proximity to and application of the latest information and communication trends puts you in an advantageous position to think about radical and emergent new business ideas as you are likely to be more sensitive to the latest trends and fashion changes. This is a good position to start a new firm on your own and help other senior executives in established firms to design responses to these new technologies and ways of doing business using these technologies.
To culminate your journey in this major, the exciting entrepreneurship practicum will allow you to launch your new venture while being a student at SMU. In this practicum, we will identify and connect you with appropriate external mentors who will advise you through the launch your new business. 

Exciting events are coming up.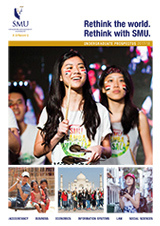 Undergraduate Prospectus 2017/2018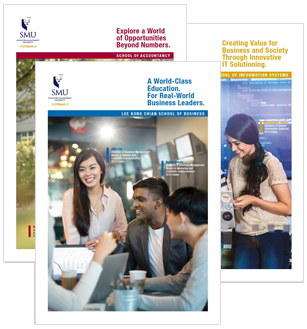 Undergraduate Programme Brochure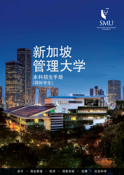 International Students Brochure