Bachelor of Science (Information Systems)
The
Bachelor of Science (Information Systems)
 aims to produce graduates with a robust capability to conceptualise, design, create and implement information systems solutions in the context of business and organisational settings.
As our economy and global landscape shifts rapidly from piecemeal uses of technology to the cohesive and adaptive "Internet of Things", our curriculum is well-positioned to equip you to be a part of a transformative process in making lives better, and society more responsive to people's needs and aspirations. 
"The 'smartness' of a city is not an end in itself; rather, it is a means to make the city more liveable and to attain sustainable development. These end-goals entail harmonising a host of concerns, including social, economic, business, environmental, and technology," explained Prof Pang Hwee Hwa, Dean, School of Information Systems on the new major -
Smart-City Management & Technology
.
"Smart-City Management & Technology is a unique interdisciplinary programme designed to train professionals to manage those multidisciplinary concerns, and to apply the enabling technologies. This timely programme equips students to seize career opportunities arising from the global trend towards smart cities, and Singapore's Smart Nation Initiative in particular. Students will acquire a sound foundation of the interdisciplinary knowledge that is required to address complex real-world problems. They will be able to innovate IT solutions to achieve intended business, social and environmental outcomes. Students will also have opportunities to participate in the development of cutting-edge smart city solutions."

Exciting events are coming up.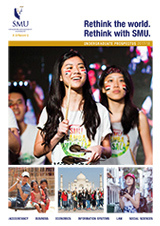 Undergraduate Prospectus 2017/2018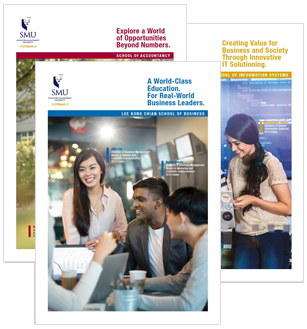 Undergraduate Programme Brochure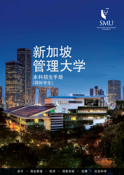 International Students Brochure