Students With International Qualifications
Living Expenses in Singapore
The cost of living is relative to your spending habit. There are an abundance of affordable food and transportation options that are easily available in the city. Food courts and hawker centres offer great variety of local delicacies at affordable prices. You are unlikely to spend more than S$5 at these places.
If you choose not to stay at SMU Residences @ Prinsep, you may want to rent an apartment with a group of friends. Sharing the rent will be a viable option. Singapore has a highly efficient transportation system. As a full-time students, you can apply for a tertiary student Ez-link concession card and commute with student fares in buses and trains.
Below are estimations of how much is required during your stay in Singapore. They do not include tuition fees and travel expenses from your home country to Singapore.
The table below serves as a guide on the basic expenditure a student may incur in a month.
| Item | Cost per month (S$) | Comments |
| --- | --- | --- |
| Accommodation | $200 - $700 | Rental prices for private apartments vary with geographical area, type of accommodation, facilities and the number of friends sharing your apartment with. |
| Utilities (including water and electricity) | $40 - $100 | Not applicable if you stay in the university hostel. Please note that utility bill depends on your consumption and may vary every month if you stay in private apartments. |
| Transportation | $300 - $450 | It depends on the distance and the mode of transport. Student concession passes can be purchased monthly. For more information, please click here. |
| Telecommunications | $50 | The price varies with data and voice packages but do ask for student plans from service providers. These student plans are cheaper. |
| Books & Stationery | From $100 / term | The Booklink at SMU's basement concourse stocks almost all required textbooks. Those looking for second-hand textbooks can source from seniors. |
| Personal Expenses | $100 - $300 | This varies with individual spending habits. Personal expenses include clothes, toiletries, entertainment, haircut and other miscellaneous. |
| Medical Insurance | | As a SMU student, you are automatically entitled to the SMU Medical Insurance Coverage scheme which covers your basic medical treatment and consultation. We have a medical clinic on campus. |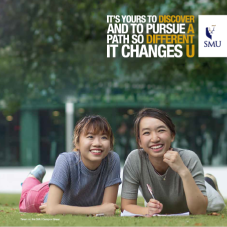 Undergraduate Prospectus 2018/2019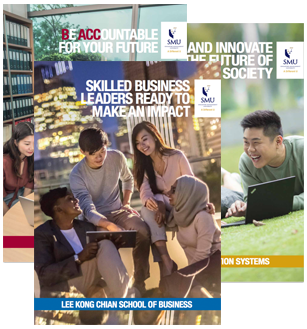 Undergraduate Programme Brochure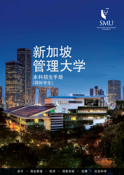 International Students Brochure