Students With International Qualifications
Living in Singapore Overview
Why Singapore?
Singapore is the conduit between the East and West. It is strategically located in the centre of the ASEAN community.
Singapore has grown to be a financial epicentre and a major trading centre in the region and the world. With sustained economic growth and political stability, Singapore is a natural choice among educators and students for learning and personal growth.
Furthermore, Singapore's reputation as a safe and clean city makes the country the preferred choice for international students pursuing further education.
Singapore at a Glance
Singapore is a tropical sunny island spanning 697 sq km to over 5 million people. It is made up mostly of descendants of migrants from the Malay Peninsula, China, India and Indonesia. You can expect an eclectic spread of distinctly Singaporean and international dishes to fulfil your appetite.
Although the city-state has four official languages (English, Mandarin, Malay and Tamil), English is widely used as the mode of communication. Singaporeans also speak a variety of dialects passed on by their ancestors. As a result of this interesting mixture, a colloquial Singaporean type of English, better known as Singlish, is created lah!
Singapore may be small but it is the pit stop to many travel destinations in the neighbouring countries for international students. Long weekends, coupled with public holidays on a Monday or Friday, are the best time to travel to exciting destinations like Langkawi, Bali, Bangkok and Boracay.
A Different U
Since establishment in year 2000, SMU was designed to provide a different model of university education in Singapore known for our interactive pedagogy of seminar-style teaching and an innovative broad-based curriculum. SMU has attracted top academics from diverse backgrounds around the world to shape and build a dynamic university.
Home to 9,300 undergraduate and postgraduate students, SMU comprises six schools: School of Accountancy, Lee Kong Chian School of Business, School of Economics, School of Information Systems, School of Law, and School of Social Sciences, offering a wide range of Bachelors', Masters' and PhD degree programmes.
The City Campus
The first and only university in the heart of Singapore, Singapore Management University (SMU) campus buildings are connected by a state-of-the-art basement concourse, and linked to a train station at Bras Basah Road. The campus is surrounded by two national museums, heritage buildings, famous shopping streets like Marina Bay and Orchard Road, and a stone's throw away from the central business district.
Check out our virtual campus here.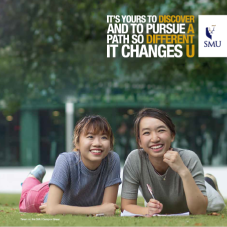 Undergraduate Prospectus 2018/2019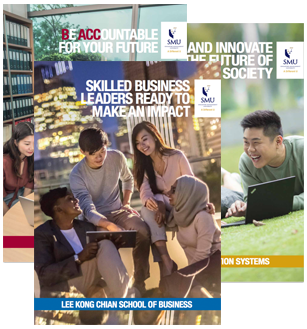 Undergraduate Programme Brochure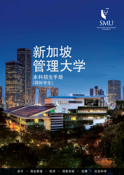 International Students Brochure