Students With International Qualifications
Application Procedure for International and Other Qualifications
Step 1: Before You ApplyStep 2: How to ApplyStep 3: After You Have AppliedStep 4: Accept Offer
Step 1: Before You Apply
Please check your application category:
For applicants applying with Singapore-Cambridge GCE A-Level, please click here.
For applicants applying with Polytechnic Diploma in Singapore, please click here.
For applicants applying with IB Diploma, please click here.
For applicants applying with NUS High School Diploma, please click here.
For transfer applicants applying with local qualifications, please click here.
For applicants applying with international qualifications, please read on.
Admission Requirements
Be at least 18 years of age by the commencement of the freshman academic year
A minimum of 12 years of formal education with good passes in a national/international examination that is recognised for the purpose of admission.
Applicants taking their respective high school examinations between January and May 2017 must submit/upload online their actual results within 3 working days after the release of the results.
Please click here for a list of international qualifications that are recognised by SMU for admission to undergraduate degree programmes.
Additional Information on Interviews / Writing Tests
Interview is conducted for shortlisted applicants. Law shortlisted applicants must also take a writing test. Some schools may require applicants to take additional tests.
Interviews and writing tests for shortlisted Law applicants are conducted in the month of April.
Click here
for important information on this.
Shortlisted applicants, including those who are not residing in Singapore, are required to attend face-to-face interviews at SMU campus. As such, under normal circumstances, the Lee Kong Chian School of Business (LKCSB) does not conduct telephone/Skype interviews.
Additional Information on SAT / ACT / IELTS / TOEFL
Applicants with LASALLE/NAFA/NIE/IB diplomas are NOT REQUIRED to submit SAT/ACT/IELTS/TOEFL.
To be considered in the 2017 admissions exercise, applicants must take the SAT/ ACT/ IELTS/ TOEFL by 26 March 2017 and submit the test scores to SMU by 31 March 2017. Tests taken after 26 March 2017 will not be considered. You are strongly encouraged to take the test early.
This group of applicants are required to submit one of the following for consideration:
SAT (previously known as SAT I or SAT Reasoning)
ACT (American College Test), including the Writing Test
IELTS
TOEFL
Mathematics Requirement
A good number of courses in the Accountancy and Economics programmes are of a highly quantitative nature. As such, applicants are expected to meet additional requirements in the form of a good score in Mathematics at high school level. Applicants who do not have this requirement can still apply for consideration if they have alternative Mathematics content background. The School of Accountancy and School of Economics make the final decision on admission.
Mother Tongue Language (MTL) Requirement
All Singaporeans and Permanent Residents must meet the MTL requirement. The MTL requirement can be fulfilled through one of the following:
a D7 grade for Higher MTL at Singapore-Cambridge GCE O-Level
a pass in MTL 'B', or an 'S' grade for H1 MTL/ MTL-in-lieu, or H2 MTL Language and Literature, or H1 General Studies in Chinese at Singapore-Cambridge GCE A-Level
a pass in MTL 'A': Literature, or MTL 'A': Language and Literature, or Language 'B' MTL at Standard or Higher Level at International Baccalaureate Diploma Programme
a pass in MTL-in-lieu subject approved by Ministry of Education (MOE), Singapore
an exemption from MTL approved by Ministry of Education, Singapore
Successful applicants who have not met the MTL requirement will be offered Conditional Admission and are required to satisfy this requirement before graduating from SMU.
Applicants who have been away from Singapore's school system for some years and have not kept up with the study of their MTL or a language that can be offered as MTL-in-lieu may apply for MTL exemption. The MTL exemption application will be facilitated by the universities as part of the university application, and the results made known to applicants who receive admission offers from the university. Please note that MOE does not accept direct applications for MTL exemption. The application for MTL exemption will also not prejudice the evaluation of the application for a place in the university.
Enquiries:
Tel : (+65) 6828 0980
Walk-in Available During Office Hours : Monday to Friday, 8.30am – 5.45pm
Closed on Saturday, Sunday and Public Holidays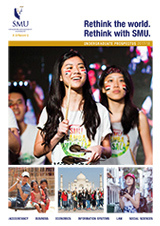 Undergraduate Prospectus 2017/2018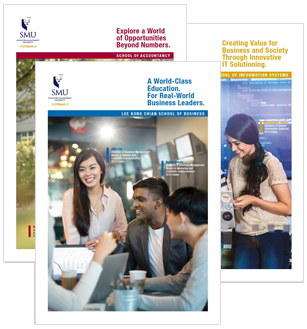 Undergraduate Programme Brochure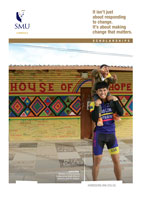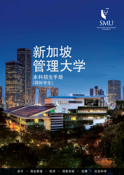 International Students Brochure