Students With International Qualifications
Application Procedure for International and Other Qualifications
Step 1: Before You ApplyStep 2: How to ApplyStep 3: After You Have AppliedStep 4: Accept Offer
Step 2: How to Apply
We welcome applicants, regardless of nationality, to apply with their high school qualifications and SAT/ACT/TOEFL/IELTS.
Applicants with A-Level qualifications from UK (Cambridge, Edexel, AQA) and other countries (Maldives, Mauritius, Brunei, Sri Lanka), and diplomas from LASALLE/NAFA/NIE that are acceptable for the purpose of admission may also apply under the International/Other Qualifications.
SMU advocates for the rights of students with disabilities and special needs, and regards them as equal, integral and contributing members of the student body. Our online application for admission has a section asking applicants to indicate if they have any disabilities or special needs. Please complete this section if you have such disabilities or special needs.
Application to academic year 2017/18 has closed.
Submission of Supporting Documents
Online Uploading of Supporting Documents (Compulsory)
After applying online, please upload the following documents using the online upload function at Applicant's Self Service. Academic results/transcripts/certificates must clearly show the applicant's name, and the name and logo of the awarding institution.
NRIC for Singapore Citizens; NRIC and Passport Particulars Page for Permanent Residents; Passport Particulars Page and Singapore Student Pass for Non-citizens.
Secondary school examination results (For example, GCE O-Level results, Year 10 results or equivalent)
High school examination results (actual, forecast or predicted, whichever is applicable)
University results, if any.
Either SAT or ACT or IELTS or TOEFL scores (Please refer to Step 1)
School Testimonials / Extra Curricular Activity / Co-Curricular Activity / Special Achievements / Award Records, if any; that are relevant to what you have indicated on your online application form (Under CCAs and Achievements).
Medical report, if you have any disabilities or major illness.
Criminal offence records, if any.
If you wish to submit other documents on top of the online submission, you may mail the hardcopy documents to SMU. Before sending the documents to us, please access Applicant's Self-Service to print a copy of the Checklist Summary (Checklist Summary will be displayed on your computer screen when your online application has been submitted successfully) and place it on top of your supporting documents. Please do not submit original documents.
Mail your hardcopy documents to:

Office of Undergraduate Admissions, Singapore Management University, Level 3, Administration Building, 81 Victoria Street, Singapore 188065
Or drop them at the Drop box (8am-9pm daily) : The box is located outside Office of Undergraduate Admissions.
An application fee of S$15 is payable. Please click here for the various payment methods.
For New Applicants
For students who have never created an application for this current application year (AY2017-18)
Please click here to view a sample of the online application form.
For Incomplete Application
For students who have created an application for this current application year (AY2017-18)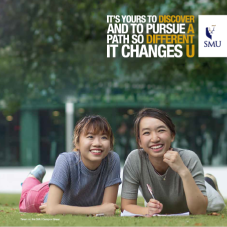 Undergraduate Prospectus 2018/2019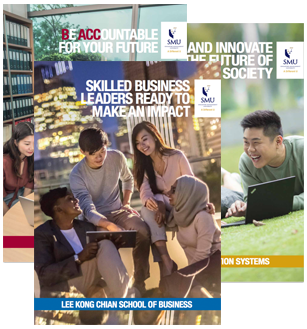 Undergraduate Programme Brochure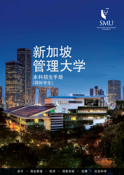 International Students Brochure